Affiliate Marketing Tools for Beginners [Free]
You will agree with me that most affiliate marketers loves having marketing tool that makes life a little bit easier. That is true especially when the tools are for free.
Haven said that ,some of the free tools are genuinely free, whereas others are only free for a limited period.
Today we are going to be looking at some of the best free affiliate marketing tools that are available to online.
For a start as an affiliate you will need to have a hosted website,you need content on the website and finally you need traffic to the site right?. The affiliate tools we are going to be looking today will fall under these 3 phases of your affiliate marketing.
In the list of tools below, I tried to include a variety of free tools so that there is at least a couple for all affiliates. So Let's take a look at the tools that might benefit you the most shall we?
"Best" Free Web Hosting Sites
It's easy to see why most free web hosting sites do still survive online. Think about the different expenses (hosting service,Autoresponder etc) you will need if you decide to run a successful website. Which is why it's tempting to try and cut costs wherever possible to stay within your budget especially if you are just starting out.
The problem now is Free web hosts aren't always what they seem. On these type of platforms there are Tight restrictions. you have restrictions like bandwidth, storage capacity, server speed, not to talk of uptimes. Uptime alone can make your new site unusable.
Personally, I will not recommend that you use free hosting providers. I will recommend instead to use a good shared host like A2 Hosting because its newbie friendly.
Haven said that if you are really on a tight budget here are some preferred free web hosting sites you can start with. But you want to switch to self hosting as soon as you are able.
Great For Personal and Small Business Websites
| | |
| --- | --- |
| Sub-domain included: | Yes |
| Bandwidth: | Unknown |
| Disk Space: | Unknown |
| Max. Websites: | Unlimited |
| Uptime & Speed: | Very Good |
| Official website: | Sites.Google.com |
I bet you probably did not know that in spite of all the free services Google offers it also has a free website builder.
Yeah, that's right Google also offer a free website builder since 2008 and currently they hosts over 70,000 live websites.
They offer responsive templates, drag and drop editing, embedding HTML and Javascript, and integrations with most of their other services(like Google Drive, Maps, Calendar, and more).
You also get a free subdomain with an SSL certificate, and Google Sites will features no ads on your website.
Here is an example of a Quiz page I made using Google site
$0/mo – With about 2 Hours of down or Offline service Every Month
| | |
| --- | --- |
| Sub-domain included: | Yes |
| Bandwidth: | 10GB |
| Disk Space: | 1GB |
| Max. Websites: | 1 |
| Uptime & Speed: | Bad Uptime, Good Speed |
| Official website: | www.000WebHost.com |
"Zero cost web hosting with PHP, MySQL, cPanel, and no ads!".
That's the marketing slogan of 000webhost.com.
The site offers an impressive speeds (especially for a shared free host), and their no-ads policy makes for a much cleaner and friendlier user experience.
Unfortunately, these two factors alone simply aren't enough to compensate for the sites many limitations when compared to a self hosted service.
Here is a website I created using oowebHost
Free Content Marketing Tools You Should Be Using
When it comes to the world of digital marketing, content is still king – perhaps more so than ever.
With so much to do now a days and so little time, creating regular content that offers value, can seem almost impossible. But the following free content marketing tools and resources are here to help…
Here I have further divided the Free content marketing tools in to the following categories
You have Research tools
Content Creation Tools
Image content Tools
landing page builder.
Email Marketing tools
Analytic tools
So you see what I am trying to do here to give you all the possible tools you will need to get started. So you have nothing to complain but take action.
Do I have your attention now? Let's get into it, shall we?
Best Free Affiliate Research Tools
Let's start with  Google Trends, which is a kind of keyword/niche research tool.
Google Trends will help you see the  popularity of keywords, it will provide you with valuable data on regional variations, and above all it's a great source for evaluating seasonality and trends in relation to search engine volume for specific keywords over time.
This data is valuable because it will help you avoid jumping on a trend that has passed and will let you see what matters to users now
 Google Keyword Planner (free)
You must have an AdWords account to access it, and that doesn't mean you have to pay anything to use it, it's still free.
The Google Keyword Planner will show you some pretty neat stats like average monthly searches, competition level (high, medium, or low), the average cost per click, and more.
It doesn't give you exact keyword suggestions but it actually takes it a step further and suggests more synonyms and variations than many other tools available.
The Google Keyword Planner is sometimes regarded as the alpha and omega of keyword research tools.
AnswerThePublic 
Semantic search is the cool new thing kids are doing these days. More and more searchers are using voice assistants to make their search on Google.
Voice search is changing SEO, and with it, keyword research is changing as well. It is for that reason that tools like the Answerthepublic comes very handy.
AnswerThePublic is a great tool to turn to when optimizing for voice search. You can master long-tail SEO by uncovering the real questions users ask about your niche.
You can expand your keyword list even further by exploring preposition keywords (seed keyword + preposition + other words).
You cam also use it to compare your seed keyword vs. another keyword.
With AnswerThePublic you can also export keyword ideas in CSV or PNG formats, which you can later use to optimize for voice search. 
Best Free Content Creation Tools
Affiliate Pages
Now most affiliate offers have specific affiliate pages where the product owners have tons of free content that you can use for free. 
The type of content offered in affiliate or JV pages includes: 
Detailed review about the product
Articles around the product niche
Done-For-You Email Swipes
Videos that you can use in your promotions & advertising campaigns
Banners to put on your website
These are pieces of content that can be pretty useful for your affiliates campaigns.
So, whatever offer you are promoting, go and checkout if they have an "affiliate page" because there you can find TONS of useful promotional content.
Free PLR products 
PLR stand for Private Label Rights. PLR content is any type of content that gives you the rights to edit, change or modify it however you want.
The whole point of PLR content is to make your life as an online marketer easier.
Private Label Rights content gives you a base of materials to work from so that you don't have to do it all yourself. You can get PLR content for:
Your blog or website
affiliate Marketing material and promotions
Your own product and course creation
There are tons of website where you can get PLR content for free. Here are a couple of examples ;
http://resell-rights-weekly.com/
http://bit.ly/IDPLRcom
http://www.isalesgraphics.com
Free Visual Content Creation Tools To Make Marketing Easy
Why type in a thousand words if you can say that with a picture?
We understand that it's difficult to create stunning visuals. Not everyone understands color theory and graphic design.
But thanks to technology, creating beautiful and unique images is easy, fast, and even free.
Canva is my favourite option when it comes to creating images for my blog and social media channels, as well as other types of visual content. I'm sure, I'm not the only one.
Canva is super easy to use, and although they also have some paid options, there's plenty that you can do with the free version.
Use it to create: social media posts, quote images, infographics, blog graphics, book and magazine covers, presentations, banners, logos, and more.
Pablo is a simple social media image creator. With Pablo, you can create quotes, overlay logos on images and resize images for Facebook, Twitter, and Pinterest.
The strength of Pablo is its super simple interface. There is no registration required and no complexities to tackle. Simply pick an image, overlay a quote and you are done.
Free Landing Page Builder Tools
 A landing page is a single page used to convert website traffic into leads and customers by highlighting the information they're looking for and presenting a strong CTA (call-to-action).
Landing pages often require a team of writers, designers and techs to create something outstanding. And this, of course, costs a fair bit of money.
But if you haven't got the budget to pay an agency hundreds, if not thousands, of dollars on a single landing page, Here are some platforms tat will help you create landing pages for your affiliate marketing campaigns for zero cost.
 Quickpages is a free landing page builder that you can use for free instead of paying for the high ClickFunnels service.
Although the quickpages has limited features when compared to other expensive tools like clickfunnel, the templates they offer are alright and they can do the job.
You can also easily integrate piece of email marketing software with the Quickpages builder.
If you can't afford ClickFunnels or another landing page/funnel builder, then you can give QuickPages a try!
Wix lets you build anything from a single landing page to a full-on website. It's known for its ease of use, stylish design, and domain registration and hosting included. In addition, the company's free plan has all of the features you need to get your landing page live right away.
Free Email Marketing tools
Email marketing is still one of the most effective techniques to promote your business online. And that is Simply because it offers features no other marketing technique does. Features like data-driven marketing, personalized messages, action-oriented campaigns, and cost-effectiveness.
The simplest way to email a group of people is Gmail's BCC field—but that only lets you email 100 people, and doesn't look very professional. The better option is to use a tool designed to send marketing emails.
The only problem with tools designed to send marketing emails is their costly start up and monthly fees.
Which is why you will find the following free email services of great help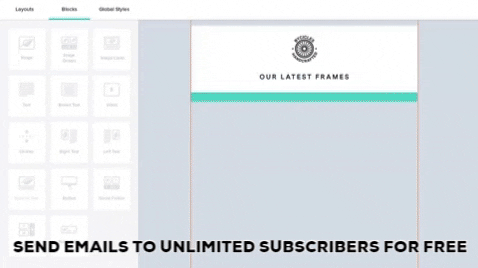 Benchmark Email allows you to send beautiful, responsive campaigns in just minutes with a customizable email templates.
The free starter plan allows you to send email campaigns to Unlimited subscribers as well as 250 emails per month
The free plan includes a wide range of email features, including the drop and drag editor, responsive templates, and multiple forms, campaigns, reports, and integrations. 
Next on our list is MailerLite which is a free email autoresponder.
However, there are some things you need to be aware of before using MailerLite.
The first one is that it is only free until you have 1000 subscribers, afterwards it cost $15 a month.
This is completely fine, as when we have 1000 subscribers we should at least be making $500 if not more.
However, now let's get onto the more important part…
MailerLite does not allow the traditional affiliate marketing model which consists of sending your contacts irrelevant products with affiliate links.
However, they allow ethical affiliates who build a relationship with their contacts, and help them with their needs. 
Free Traffic Source
We all know paid traffic is much more effective, but it can often cost way too much. Its for that same reason why I decided to grow my YouTube channel together with my website using just free traffic.
The only problem with free traffic is that it takes a lot of time and hard work.
Click the image below to get my list of free Traffic source
In the video below, I am also going to show you how to get tons of traffic for as little as pennies per click on youtube.
I am going to show you how to find youtube channels that have a lot of engagements in their channel videos but have limited ads displayed in the videos so you can hop in front of them and start promoting your offers.
The deal here is, when it comes to videos with limited ads display the cost per click for ads is very low, basically pennies.
You can target that channel with high paying affiliate offers by paying just pennies for ads
Watch the video for more
Kartel Bonus page: https://tubemechanicsnotes.com/kartel-review/
Hope all that was helpful and thanks for checking out my tools